Discussion Starter
·
#1
·
I was on a fireworks crew for the 3rd and 4th of July. We had a show in Jacksonville Al, and Calhoun Ga.
The pics are from Calhoun and the video is from Jacksonville. The Calhoun show is supposed to be one of the best shows in Ga. I have hazmat endorsment on my CDLs so i was the transporter of all the explosives. If you have never done this before it is definatly a rush. The blasts from the shells are unreal. We had 3", 4" 5" and 6" inch shells. They make them bigger but ATF is getting funny about that stuff.. There are so many rules you have to go by as far as distance from things and clearance for the bigger shells so we could only do 6inch shells.
These are the 6inch tubes that the shells are in. There are crates that the shells are mounted in.. Almost like pallets that are in warehouses. we take them and nail boards to connect all of them together so they dont knock over.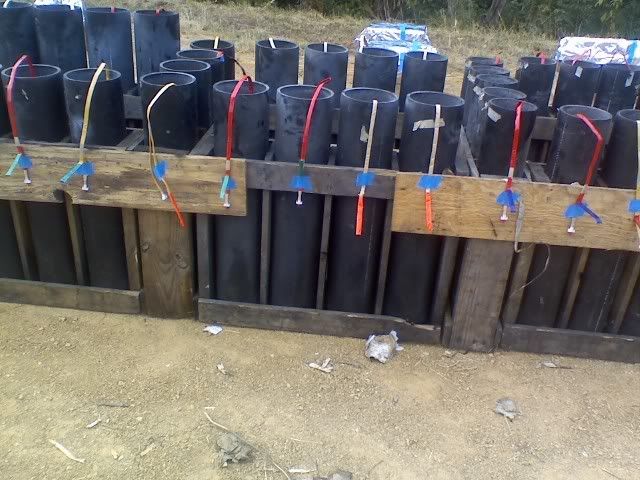 the ones in aluminum foil is the opener.. this gets the crowd going. All of these are a one light. It goes through the whole set up very rapidly. The above pic and the ones in this pic other than the aluminum foil ones are the body.. this is just the mid part of the show.. All of these are shot by hand.. 2 or 3 ppl are walking around them with flares lighting a few 3"s then a 6" then some 3" then some 4" just back and forth until all of the tubes are cleaned out. There is so much debris ralling down on us that is on fire there are fireman and other members putting the fire paper/ debris out that falls on your head and shirt. I had a bunch of burn holes in my shirt thrusday night and my foot was hot cause some fell down in my shoe. You are about 2 ft away from these things as they go off.. You gotta keep moving so they dont hit you.. light and move light and move. You have about 3 secs before most of them go off.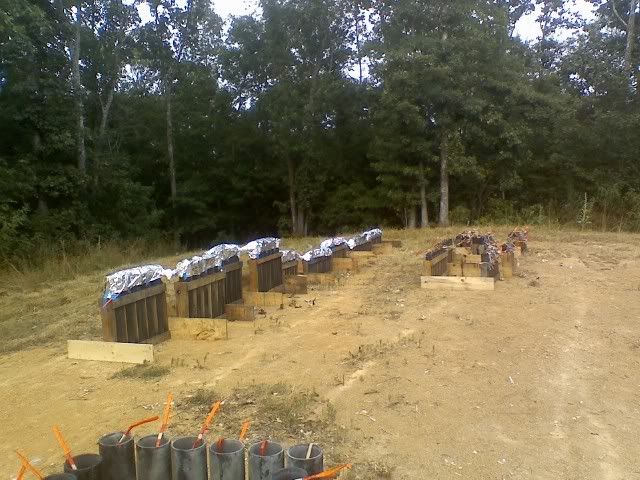 all of these are cakes and rockets in this pic. The show was coreagraphed(sp) with some songs. The rockets went off at certain parts of songs as did the cakes. all of this was wire to a box. It was electronically done on site.
and this last pic is the finaly.. All of this is a one light also.. we wire up all the stuff together.. When this goes off it is something serious.. All of the 5"s and 6"s at the end is wicked. It will definatly rock your world.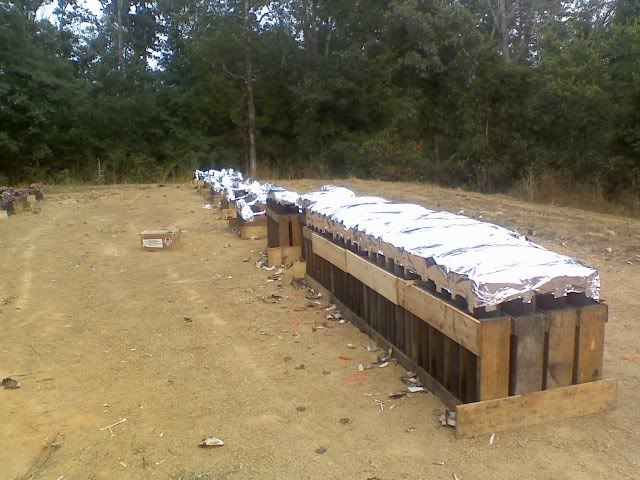 the show that was done on top of this mountain where the pics are taken was about 27 minutes.
the show thursday night was about 15 minutes.
Here is the finaly from thrusday night.
Little more info.. the 6" shells go up about 625ft. These things are 1.3g explosives.. the big stuff you buy at the fireworks places are .5