Discussion Starter
·
#1
·
Where is the Value?​
There have been a few questions about the value of being a sponsor at moddedraptor compared to other ATV sites. Here at moddedraptor we strive to run the best "Family based" ATV forum possible but still with our eyes on the future and constant growth.
In 12 months we have:
Attracted almost 2000 members.
Generated almost 1 Billion hits on the site.
Been featured or mentioned four times in national ATV magazines.
One of our appearances in ATV Sport, the site was actually reviewed and got stellar reviews. Two of the other mentions were featuring our "Raptor of the Month" which I submit each month to many different publications. This all generates traffic which gets your company seen.
**Click on any of the thumbnails below to view the full size image**
Features in National Publications​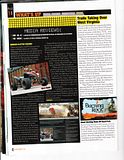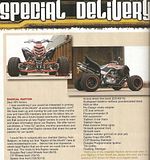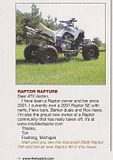 Numbers and Stats
​
What do I get as a sponsor?​
As a sponsor you receive:
A static image, if you choose, on the home page along with a text area describing what you do and your contact information.
In the main forum you receive your own forum within the sponsor section to talk about your business, make contact with customers or promote items.
A banner within our rotation under the chat box that shows on all forum pages. The rotating banner will link to your home website.
100% support of all moddedraptor staff and a great group of people that frequent moddedraptor.

What do we offer our members here at moddedraptor?​
Here at moddedraptor we don't charge our members for anything, here everyone is equal.. There is no "VIP', no "Premier Member".. Everyone gets full access to the entire site and all of our site features.
Site features include:
Full VBulletin based forum.
User photo albums
Interactive Chat Box
Monthly crowned "Raptor of the Month"
Regular high end prize "Give-Aways"
Managed Group-Buys
Product Reviews
Riding Location Sections
Full "How-To" Sections
Classifieds Section

In the end, you end up with the support of a great family of people who are loyal to those to treat them right. Ask anyone here, we support our sponsors who support us. In the end remember, an active sponsor translates to more sales. If you are here to answer questions and be part of the community people know who you are and what you do. Thanks for supporting the site and I wish you and your company the best.



If you are interested in becoming a sponsor please message me for details​


Tim
Wreckless