FINAL TRIBUTE...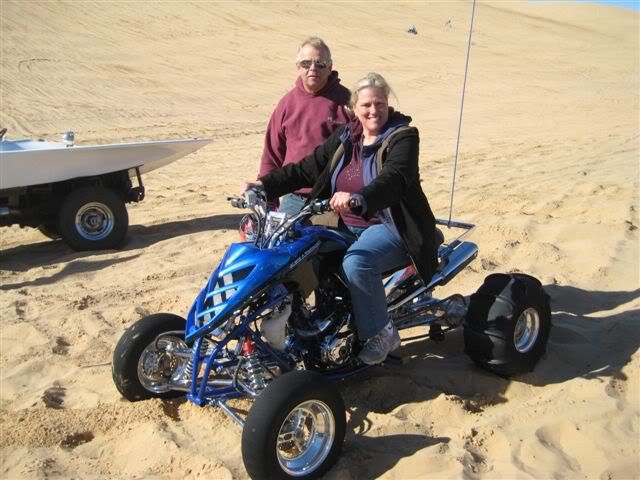 If you are fortunate enough, you will have someone touch your life in a way that will have a life long impact or change to it. As I reflect on the past 43 years, I have been very lucky to have several people that have come into my life and left their impression on me. Sometimes it is because of their mentoring, a big shoulder to cry on or a loss of a family member or good friend.
As many of our members here on ModdedRaptor know, we lost a good friend to all of us earlier last year,
Dale "Coop" Cooper (ModdedRaptor screen name – Humboldt_G).
For you newbies to ModdedRaptor, you will have to read the old threads and put up with our stories of our friend that has touched us all in one way or another. Dale had one of those personalities that made it fun staying up to the wee hours in morning talking in the Chatbox about how to make our quads better, faster, or to talk about music and posting crazy Youtube videos, Scapper Bikes or talking about some goofy thread we started, (and "Coop" started a few duezies) etc… LOL
But one thing we ALL shared was the passion for our quads and the great fun it was riding them, especially at the dunes. Before we lost Dale, he was in the middle of a major rebuild of his Raptor and planned to have one of the best looking and riding Duner's around. Many of you will remember the updated pics we would receive either in one of Dale's thread or most of the time in the Chatbox. If Dale got a bolt back from the chrome plater, he would post a pic of it, when he got the frame back from being painted, he posted a pic of it, part of the suspension back, he would post a pic of it etc… We followed Dale through his rebuild waiting to see the completed Raptor again. Well unfortunately Dale was not able to complete his dream before he passed away. His family was faced with many challenges with the loss of Dale, one of them being… what they were going to do with Dale's Raptor that was in a million different pieces throughout his house. Lucky for them, Dale had many friends on ModdedRaptor and one that stepped up to help complete Dale's dream.
Now many of you members know him as
Tony Wagoner
or
PDUB (ModdedRaptor screen name – Pdub383426).
Tony explained to the family that he would like to help see Dale's dream come true which would be a huge undertaking. Once Tony was able to gather up all the parts for the Raptor he asked the ModdedRaptor community if anyone would be interested in helping with the rebuild. With an overwhelming response from friends, members and our ModdedRaptor site Sponsors, Dale's quad was put back together.
Over New Years 2011, several of us planned on ringing in the New Year at Glamis and had a surprise visit from Dale's Brother Ray, Mom Denise and Father Tom. They made the trip to Glamis to meet up with Tony and to see Dale's quad for the first time completed. Needless to say, Dale's Raptor came out AWSOME and these pictures do not do his quad justice. I have never seen a Blue pop more in the sunlight especially with all the polished and chrome pieces.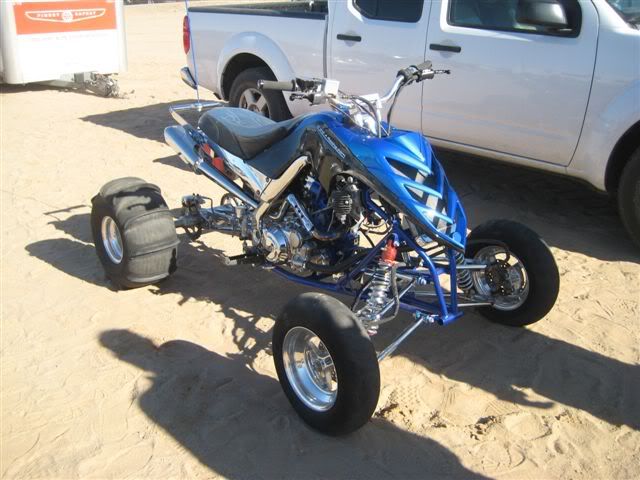 Tony you have really outdone yourself seeing Dale's Raptor be put back together.​
New Year's weekend, Dale's Dad Tom took the Raptor for a ride for the first time from our camp to Oldsmobile Hill. I believe this was his first dune ride and one could only imagine the emotions going through him, riding his son's Raptor. Once at Olds the next thing to do was to buzz the hill were Tom did several times. Brother Ray not wanting to be left out, strapped on his helmet and took his turn on the hill. I guess they both enjoyed the ride because I have never seen two bigger smiles when they returned. Dale's Mom Denise even took the quad for a quick spin at the bottom of the hill.
Dale's Dad - Tom
Dale's Brother - Ray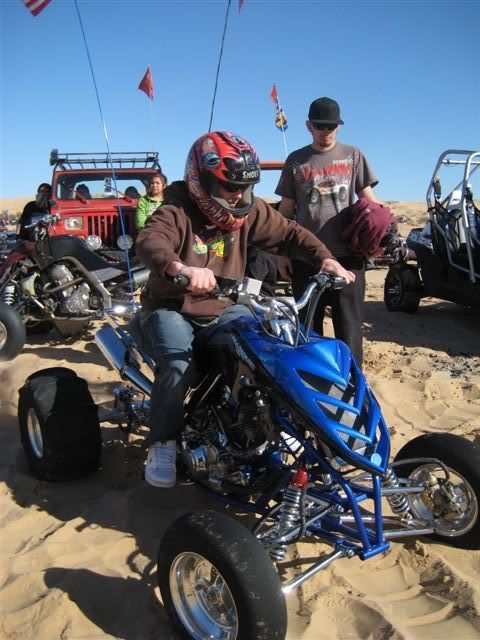 Dale's Mom - Denise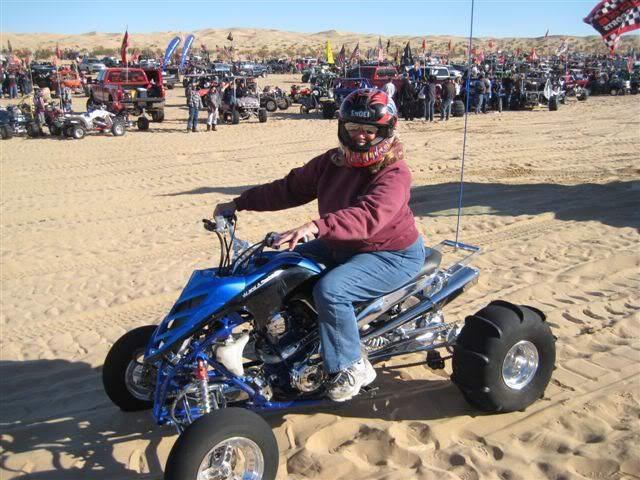 I titled this thread
"Final Tribute"
for several of reasons…
The completion of Dale's Raptor was an AWSOME site for us and his family to see in person. Upon returning from Oldsmobile Hill that day, Dale's Dad pulled me aside and explained that he, Denise, Ray and the rest of Dale's family were not sure what they were going to do with Dale's Raptor. The quad really had more power then what anyone of them really needed and the thought of putting it up for sale on Ebay or doing some kind of Raffle didn't seem right. They didn't want just anybody to buy it and not appreciate what it stood for or what it took to put the quad back together.
Therefore… the family decided that the best thing to do with the quad would be to make sure that who ever ended up with the quad, that they would really appreciate it and understand what Dale's Raptor represented.
So... Dale's family has decided that they want to give Tony (PDUB), Dale's Raptor!​
If I know Tony the way I think I know him, I'm sure he said… no, I can't possibly accept the bike, it would not be right etc...
Tony, you were put into an unenviable position with Coop's passing to see that his Raptor be put back together and complete Coop's dream of having one of best looking, best performing quads at any dunes. You took it upon yourself to go to the funeral, meet Dale's family and make the necessary arrangements with the help of our Members and Site Sponsors to help bring everything together. That my friend is one of the most unselfish acts I have ever seen and you are truly a great friend in every sense of the word!
I know you may not think it is right for them to give you the quad but this is Dale's family decision and one that you must honor not only for them but for Coop. You are the only one and the perfect steward for this honor.
To Denise, Ray and Tom and family, it was a pleasure to finally meet you at Glamis over New Years. Dale has touched everyone's life in one way or another for the better. I am glad Dale's Raptor will be around for everyone to enjoy and be appreciated.
-Johnny